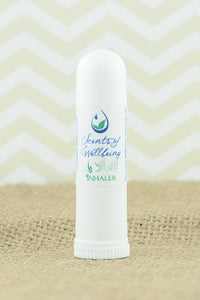 This highly concentrated blend is the respiratory system's natural defense to contagious illness spread by airborne exposure. The natural antiviral, antibacterial, antibiotic & antiseptic essential oils were carefully chosen for everyday inhalation. An immune stimulating blend, this powerful little inhaler covers all the bases for your respiratory tract.

Tea tree: High in Terpene alcohols, highly antiviral, antiseptic, antimicrobial, immune-stimmulating
Thyme: High in Terpene alcohols & esters, strong antispetic, antiviral, immune-stimmulating
Palmarosa: High in Terpene alcohols, antiviral, antibacterial, airborne antiseptic
Naiouli: High in Terpene hydrocarbons, terpene alcohols, sesquiterpene alcohols & terpene oxides, antiseptic, immune-stimmulating, anti-alergenic, antibacterial
Scots Pine: High in Terpene hydrocarbons, antimicrobial, strong airborne disinfectant
Directions: Unscrew cap, place near nostril & inhale 1-3 deep breathes through the nose. Repeat on other side. Use before, during or after exposure to contagious illness. Replace cap after each use to prolong life of product.
Warnings: Use only as directed. Use in moderation if pregnant or under 10 years of age. Not intended for internal use. This oil contains Thymus vulgaris, which is a known skin irritant. If irritation or drying of mucus membranes occurs, another blend may be substituted. Contact us for more information.
Contains: 100% pure essential oils of Tea tree (Melaleuca alternifolia), Scots pine (Pinus sylvestris), Thyme ct Linalool (Thymus vulgaris) Palmarosa (Cymbopogon martini), & Niaouli (Melaleuca viridifloria)