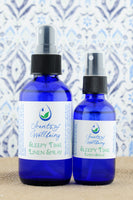 What Customers Are Saying About Our #1 Seller: Sleepy Time Linen Spray
"This spray has changed and revolutionized my getting ready for bed routine! I sleep so much better and fall asleep so much more quickly! If I'm going to go lay down for a bit to rest, I'll spray my bed and the stress melts. A must have for every bedroom." - RaChelle S.
"Absolutely love the calm and soothing scent. I use it in bed every night and on the footies of my son's pajamas!" -Kayla S.
"Smells wonderful. I spray some near my cpap machine at bead time. I'm falling asleep faster and deeper then I have in a while." -Sabrina K.
Buy Now
Location
Our Store
NEW LOCATION!
320 E Fairhaven Avenue
Burlington, Washington
Store Hours:
Monday-Saturday
10:00 a.m. - 5:00 p.m.
Local Pickup & Shipping Available!