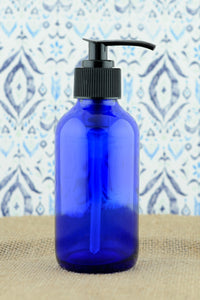 Calm the nervous system & sooth an overactive, over-stressed mind. This blend reduces stress, anger, irritability, restlessness, nervous tension & sensitivity, and promotes a calm state of mind. When the mind is stressed, it also causes the body to react with muscle tension. When used in massage or in the bath, this lotion simultaneously relaxes muscles & reduces physical tension.
Carefully selected essential oils are mixed into a luxurious, yet lightweight, body lotion that leaves skin soft as silk. This daily moisturizing lotion is highly nourishing, healing dry, cracked skin, without a greasy residue. The lotion consistency is absolutely lovely. It is silky smooth and non-greasy. It absorbs quickly & leaves skin soft. Lotion for body AND mind!
Directions: Use daily for soft, hydrated skin. For psychological benefits, apply on upper body, where aroma will reach the nose. Rub lotion between palms, cup hands over nose & take several deep breathes through the nose. Use as needed.
Contains: Distilled water, Mango butter, Almond oil, Avocado oil, Jojoba oil, Raspberry seed oil, Sesame oil, Emulsifying wax, Staeric acid & Optiphen and 100% pure essential oils of Lavender (Lavendula angustofolia), Roman chamomile(Anthemis nobilis), Mandarin (Citrus reticulata), Myrtle (Myrtus communis) & Clary sage (Salvia sclarea)

We use only 100% pure essential oils carefully sourced from around the world. We take pride in the purity of our products. You will always get the freshest products possible!