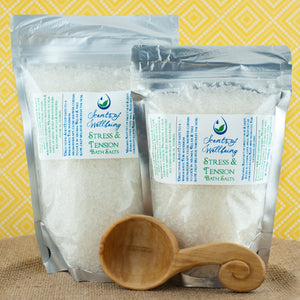 The essential oils in these salts are commonly used to calm the nervous system & sooth an overactive, over-stressed mind. Add these to your bath to reduce stress, anger, irritability, restlessness, nervous tension & sensitivity, and promote a calm, euphoric state of mind, while simultaneously relaxing muscular tension, inflammation & aches. The high mineral content of the Epsom & Dead Sea salts are also great for the skin.
*Wooden salt scoop not included unless selected. Each scoop is unique & handmade using local, PNW wood.

Directions: Add up to 1/2 cup salts to a warm bath. For maximum aromatherapy, close shower curtain to lock in aroma. Relax & take slow, deep breaths through the nose.

Contains 100% pure essential oils of Lavender (Lavendula angustofolia), Roman chamomile (Anthemis nobilis), Mandarin (Citrus reticulata), Myrtle (Myrtus commumis) & Clary sage (Salvia sclarea), and Epsom & Dead Sea salts.