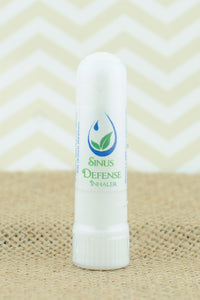 This highly concentrated blend is a natural antibiotic & antiseptic, intended to alleviate symptoms of sinusitis. It's benefits include reducing inflammation, expelling excess mucus, expanding airways and calming the cells lining the sinuses. In addition, it is anti viral, antiseptic and anti-infections. May also be used to fight colds & support the immune system.
*See also "Sinusitis Synergy"
Directions: Unscrew cap, place in nostril & inhale repeated, deep breathes through the nose. Repeat on other side. Use as needed. Replace cap after each use.
Warnings: Use only as directed. Do not use if pregnant or under 12 years of age. Not intended for internal use. This oil contains Thymus vulgaris, which is a known skin irritant. If irritation or drying of mucus membranes occurs, another blend may be substituted. Contact us for more information.
Contains: 100% pure essential oils of Peppermint (Mentha piperita), Lavender (Lavendula angustifolia), Tea tree (Melaleuca alternifolia), Scots pine (Pinus sylvestris) & Thyme ct Linalool (Thymus vulgaris)