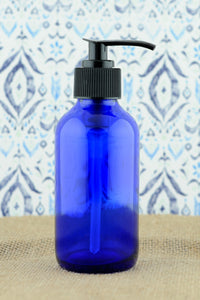 This healing blend helps balance hormones after childbirth. Emotionally, it reduces stress & depression and creates a sense of peace for a busy & delicate new mom.  Also useful for mild muscle tension. Not to be used during pregnancy.
A new baby also means endless hand washing, leading to dry skin. Carefully selected essential oils are mixed into a luxurious, yet lightweight, body lotion that leaves skin soft as silk. This daily moisturizing lotion is highly nourishing, healing dry, cracked skin, without a greasy residue. The lotion consistency is absolutely lovely. It is silky smooth and non-greasy. It absorbs quickly & leaves skin soft. Lotion for body AND mind!
Directions: Use daily for soft, hydrated skin. For psychological benefits, apply on upper body, where aroma will reach the nose. Rub lotion between palms, cup hands over nose & take several deep breathes through the nose. Use as needed.
Warning: Do not use during pregnancy.
Contains: Distilled water, Mango butter, Almond oil, Avocado oil, Jojoba oil, Raspberry seed oil, Sesame oil, Emulsifying wax, Staeric acid & Optiphen and 100% pure essential oils of Lavender (Lavandula angustifolia), Clary sage (Salvia sclarea), Neroli (Citrus aurantium), & Geranium (Pelargonium graveolens)

We use only 100% pure essential oils carefully sourced from around the world. We take pride in the purity of our products. You will always get the freshest products possible!