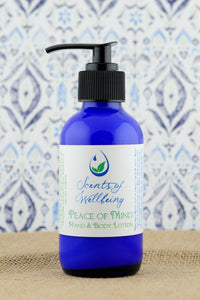 Slow overactive thoughts, calm stress, reduce depression and put your mind at peace with this soothing, uplifting blend. The essential oils in this blend are known antidepressants and even aphrodisiacs, as they communicate with the nervous system, reacting within the mind and body. They are grounding, protecting & reassuring, instilling confidence & happiness.
Carefully selected essential oils are mixed into a luxurious, yet lightweight, body lotion that leaves skin soft as silk. This daily moisturizing lotion is highly nourishing, healing dry, cracked skin, without a greasy residue. The lotion consistency is absolutely lovely. It is silky smooth and non-greasy. It absorbs quickly & leaves skin soft. Lotion for body AND mind!
Directions: Use daily for soft, hydrated skin. For psychological benefits, apply on upper body, where aroma will reach the nose. Rub lotion between palms, cup hands over nose & take several deep breathes through the nose. Use as needed.
Contains: Distilled water, Mango butter, Almond oil, Avocado oil, Jojoba oil, Raspberry seed oil, Sesame oil, Emulsifying wax, Staeric acid & Optiphen and 100% pure essential oils of Patchouli (Pogostemon cablin), Sweet orange (Citrus sinensis), Lavender (Lavandula angustifolia) & Ylang ylang complete (Cananga odorata)
We use only 100% pure essential oils carefully sourced from around the world. We take pride in the purity of our products. You will always get the freshest products possible!