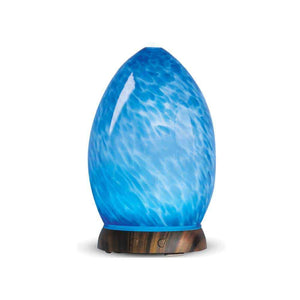 Get all of the health benefits of your essential oils with this ultrasonic, no-heat, ultra-fine mist diffuser, promoting positive well being for the entire home or office. A sleek marble look on hand hand-blown glass, this diffuser will enhance any room when used with our high quality essential oils. It's features make it an excellent choice for creating a healthful ambiance for up to 12 hours! With light options of color rotating, or fixed color, you can use it as a lamp, mood lighting, or turn off the light all-together. This unit also has 2 operating modes: continuous and intermittent, running time of up to 12 hours and has an auto-shut off sensor, ensuring you get the full expected life of this diffuser. Standing at 9 inches tall, this table-top diffuser provides up to 1000 square foot range of dispersion, making it a great choice for your home or office.
Dimensions: 7″ X 7″ X 9″
Capacity: 170 ml
Run time: Up to 12 hours
Operating Modes: Continuous/Intermittent/Off
Light: Color Rotating/ Fixed/ Off
Coverage: Up to 1000 Sq. Ft.
Auto Sensor Shut Off: Yes
Materials: Hand-blown Glass/BPA-free Medical Plastic
Power: 100-240V AC
Warranty: This unit has a 1 year manufacturer warranty and customer support.