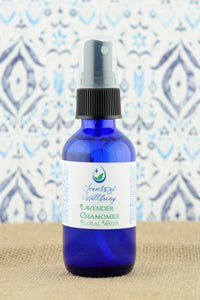 This is a 50/50 combination of pure Lavender hydrosol & Roman chamomile hydrosol. Nothing else added. A water-based spray that is mild enough for baby right from birth & extremely versatile throughout childhood.      

Mist bedding for a calming effect (helps mom or baby sleep, won't stain bedding)
Add to bath
Mom can use in a compress or sitz bath for postpartum relief (helps inflammation & pain, antiseptic & healing)
Dilute to wash breast area, helps prevent cracked nipples. Also calming & makes feeding time even more relaxing
If used as above the baby creates an association of this scent with mommy. When childcare is required, if the caregiver wears this scent the handover is much easier because baby smells mommy and becomes calm.
Diaper rash—helps redness & pain
Teething—dilute with water 50/50 & rub gums frequently to reduce inflammation, swelling, pain & crankiness simultaneously.
Cleans cuts & scrapes while taking away pain.
For external use only. Store out of children's reach, in a dark, cool place to retain freshness. Use within 1 year, or longer if refrigerated.
Contains 100% pure hydrosols of Lavender (Lavendula angustofolia) and Roman chamomile (Anthemis nobilils)