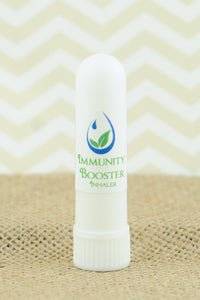 Did you know that perfumers were some of the only survivors of the Plague? Essential oils are highly effective in defending against infections & illnesses! Ever wonder how plants avoid molding or growing bacteria and stay in homeostasis? It's because they contain essential oils, working to defend them! Each essential oil in this blend is supportive & stimulating to the immune system. Combined, they are: antiviral, antiseptic, antimicrobial, antibacterial & anti-infective. This is a great protection blend anytime you are needing extra immune support. Also beneficial for allergies.
Directions: Use as desired, after being exposed to illness or at very first signs of illness. Unscrew cap, place near nostril & inhale 1-3 deep breathes through the nose. Repeat on both sides.
Contains: 100% pure essential oils of Tea tree (Melalueca alternifolia), Lemon (Citrus limonum), Ravintsara (Cinnamomum camphora), Myrrh (Commiphora myrrha), Niaouli (Melalueca Quinquenervia) & Lavender (Lavendula angustifolia).