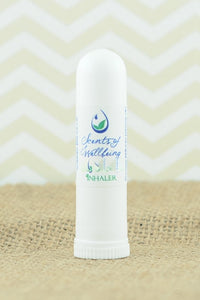 Contains carefully selected essential oils that have chemical components with anti-inflammatory, antispasmodic & analgesic (pain relieving) effects which alleviate the painful pulsation and inflammation of migraine (also known as vascular headache) and tension type headaches. Cooling & calming, it soothes the muscle contractions caused by tension and stress & reduces the vascular swelling that causes migraines.
WARNINGS: Do not use if pregnant.
Directions: Unscrew cap, place in nostril & inhale repeated, deep breathes through the nose. Repeat on other side. Use as needed. Replace cap after each use.
Contains: 100% pure essential oils of Lavender (Lavendula angustifolia), Clary sage (Salvia sclarea), Marjoram (Origanum marjorana), Helichrysum (Helichrysum italicum), Yarrow (Achillia mellefolium) & Peppermint (Mentha piperita),