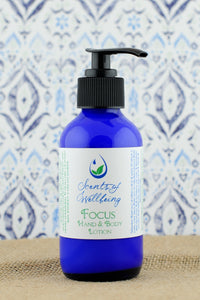 Have your head in the clouds? This blend helps center, calm & balance an easily distracted mind. It helps strengthen one's ability to focus by grounding thoughts & helping mind & body be still & quiet. If you find yourself to be absent-minded, have a difficult time focusing on the task at hand (or life in general!), feel burnt out, fatigued, stressed and/or worried, this blend is just for you! It is an earthy blend of woods, resin & root, with a small hint of floral. Woods, resins & roots are known to be grounding, healing, nourishing & balancing, which in turn, strengthens your focus & re-plants your roots back in the ground.
Carefully selected essential oils are mixed into a luxurious, yet lightweight, body lotion that leaves skin soft as silk. This daily moisturizing lotion is highly nourishing, healing dry, cracked skin, without a greasy residue. The lotion consistency is absolutely lovely. It is silky smooth and non-greasy. It absorbs quickly & leaves skin soft. Lotion for body AND mind!
Directions: Use daily for soft, hydrated skin. For psychological benefits, apply on upper body, where aroma will reach the nose. Rub lotion between palms, cup hands over nose & take several deep breathes through the nose. Use as needed.
Contains: Distilled water, Mango butter, Almond oil, Avocado oil, Jojoba oil, Raspberry seed oil, Sesame oil, Emulsifying wax, Staeric acid & Optiphen and 100% pure essential oils of Cedarwood (Juniperus virginiana), Petitgrain (Citrus aurantium), Lavender (Lavendula angustifolia), Vetiver (Vetiveria zizanoides) & Frankincense (Boswellia thurifera).

We use only 100% pure essential oils carefully sourced from around the world. We take pride in the purity of our products. You will always get the freshest products possible!