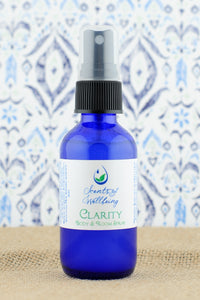 Tired & groggy in the mornings? For some of us, it can last all day! Clear the brain-fog with this stimulating blend, designed to promote clarity, energy & motivation. Essential oils work directly with the autonomic nervous & central nervous system, via the nose, to stimulate the mind & body. Who couldn't use a little motivation & clarity? Bonus: a pleasantly minty & fresh aroma with a hint of citrus.
Directions: Always shake well before each use.
For room & linen spray: mist into air or on linens to disinfect (great when someone in the house is, or has been sick) and deodorize.
For body spray: mist into air and walk into mist while taking several deep breathes through the nose. May also spray on palms of hands & cup over nose for more direct inhalation.
Repeat as needed. Avoid contact with eyes. Avoid use on children under 12. May irritate sensitive skin.
Contains: Distilled water and 100% pure essential oils of Juniper berry (Juniperus communis), Lime (Citrus latifolia), Basil (Ocimum basilicum), Peppermint (Mentha piperita) & Rosemary (Rosmarinus officinalis)