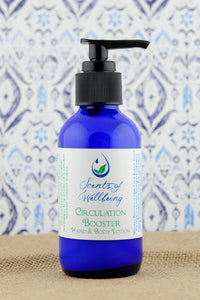 This blend is great for individuals with poor circulation, whether it's due to a medical condition, aging or lifestyle. Apply daily to increase circulation & blood detoxification, and help tone skin. Also helpful for cellulite & varicose veins.
Carefully selected essential oils are mixed into a luxurious, yet lightweight, body lotion that leaves skin soft as silk. This daily moisturizing lotion is highly nourishing, healing dry, cracked skin, without a greasy residue. The lotion consistency is absolutely lovely. It is silky smooth and non-greasy. It absorbs quickly & leaves skin soft. Lotion for body AND mind!
Directions: Shake well. Rub onto areas of concern 2 times per day, or use as daily body moisturizer. For very slow circulation, use in combination with Circulatory Booster Bath Salts 2-3 times per week.
Contains: 100% pure essential oils of Grapefruit (Citrus paradisi), Juniper berry (Juniperus communis) & Rosemary (Rosemarinus officinalis ct cineol), distilled water, Mango butter, Almond oil, Avocado oil, Jojoba oil, Raspberry seed oil, Sesame oil, Emulsifying wax, Staeric acid & Optiphen.