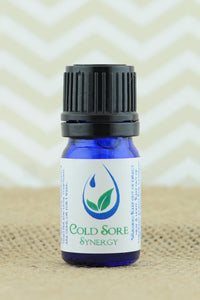 This is only Step 1 of our Cold Sore Care set, intended to be used in conjunction with Step 2 topical oil. See "Cold Sore Care" set for initial treatment.
The correct essential oils can be very effective against the herpes virus. Topical application of this synergy directly on the blister will dry up & tighten skin quickly. This highly concentrated blend of essential oils contains strong antiviral, antiseptic & antimicrobial components for reducing symptoms & the recurrence of outbreaks of herpes simplex.
Directions:
Step 1:  Apply 1 drop of Step 1 synergy to a cotton ball & apply to affected area 3 times per day for 2-3 days, until skin dries out & tightens.
Step 2:  Once sore is dried & skin is tightened, replace synergy with Step 2 oil & apply 3 times per day until symptoms are gone, or for 1 week.
Also recommended is direct inhalation, either from the bottle or a tissue in which 2 drops have been added (keep tissue in a zip-lock type bag for freshness), as needed throughout the day.
Use only as directed. Not intended for internal use.
*If irritation occurs, wash with soap & warm water and discontinue use.
Step 1 Synergy Contains: 100% pure essential oils of Tea tree (Melaleuca alternifolia), Lavender (Lavandula angustifolia), Geranium (Pelargonium graveolens), Eucalyptus radiata (Eucalyptus radiata) & Eucalyptus citriodora (Eucalyptus citriodora)