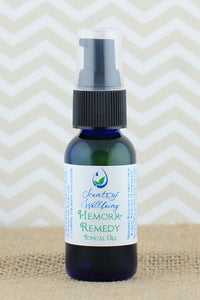 If you suffer from Hemorrhoids, then you are in good company. Over half of the population, men & women alike, experience hemorrhoids at some point in their life. Good news is there are some amazing botanicals that are highly effective! The essential oils chosen for this blend are antiseptic, astringent & cooling. They reduce swelling & discomfort, have vasoconstricting, anti-hemorrhagic & diuretic effects, and are all-around toning to general circulation. Essential oils combined with alcohol-free Witch hazel, Wheatgerm seed oil & Aloe vera make this an exceptional & natural choice for relief of symptoms such as pain, itch & swelling.
Directions:
SHAKE WELL WITH EACH USE. Rub onto affected area (externally- it will absorb!), as needed, using a cotton pad or clean finger.
Warnings:
Do not use if cancer is present. Some essential oils can be sensitizing- If you find you need to use this product daily for more than 2 weeks, adopt a pattern of 5 days on, 2 days off, to allow the body to "reset".
Contains: Aloe vera gel (Aloe vera, Citric acid, Potassium sorbate, Asorbic acid & Xanthan), Witch hazel (Hamamelis virginiana) hydrosol, Wheatgerm (Triticum vulgare) oil, 100% pure essential oils of Cypress (cupressus sempervirens), Geranium (Pelargonium graveolens), Peppermint (Mentha piperita), Yarrow (Achillea millefolium) & Niaouli (Melaleuca quinquinervia), Vitamin E T-70 (Tocopherol) and Optiphen ND (preservative).