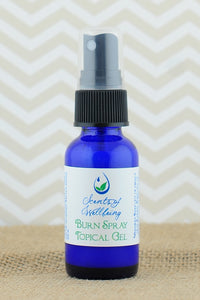 This soothing & cooling spray relieves excess heat, inflammation, pain & itch caused by sunburns, kitchen burns and other burn injuries. This carefully formulated blend of essential oils, hydrosols, Aloe vera & Green tea extract provides instant relief, plus speeds up healing time & prevents, or reduces, scarring. Use immediately for burn injuries and sunburns! Store it in the fridge for added cooling effect. Safe for ages 2 and up!
Directions: Shake well before each use. Apply topically to burned areas several times a day or as needed.
Warning: Do not use on children under 2 years of age.
Contains: Aloe vera gel (Aloe vera & 0.3% Citruc acid, Potassium Sorbate, Ascorbic acic & Xanthan), Witch hazel, Cucumber, Rose, Roman chamomile & Helichrysum hydrosols, Green tea extract, 100% pure essential oils of Lavender (Lavendula angustofolia), Roman chamomile (Anthemis nobilis), Peppermint (Mentha piperita) & Eucalyptus (Eucalyptus globulus) & Optiphen ND (preservative).