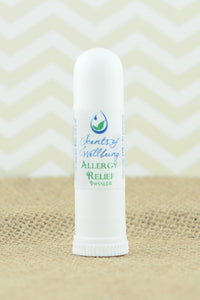 Great for people on-the-go, this inhaler can be used as a preventative anti-histamine AND to clear up symptoms caused by allergens after they surface. Contains only pure essential oils with strong anti-allergenic, immune stimulant & decongestant components. Through inhalation, they reduces inflammation, sooth mucous membranes & clear respiratory ailments.
Directions: Remove cap, take repeated inhalations through each nostril, then replace cap. For best results, apply prior to exposure to allergens. Use as needed.
Contains 100% pure essential oils of Lavender (Lavandula angustifolia), Naiouli (Melaleuca quinquenervia), Tea tree (Melaleuca alternifolia), German Chamomile (Matricaria chamomila) & Eucalyptus (Eucalyptus globulus).